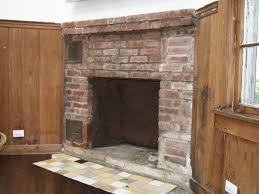 A fireplace can be the focal point of a home or even a room in that home. Many people buy homes simply because it has a fireplace, only to find out too late that the fireplace doesn't work properly or is unsafe to use. Due to the complex structure of a properly built fireplace, there are many areas that over time will need repair. Whether your need for fireplace repairs is due to aging or poor construction techniques, we could have the solution. A thorough inspection of your fireplace will reveal the problem areas and help us determine if feasible fireplace repairs are possible.
While some fireplace problems are visible right from your living area, many are hidden within the fireplace structure. To the untrained eye, everything looks great. But, what you can't see can be hazardous to your home and family. In most instances, a simple inspection of the fireplace system will reveal these hidden hazards and a solution, and an estimate can be given for the proper fireplace repairs.
Common Fireplace Repairs
Fireplace repairs can vary from extremely simple to very complex. Listed below are a few of the most common fireplace repairs.
Firebox Re-Pointing- Many times, whether due to the age of the fireplace or poor construction, the mortar joints in the firebox become soft,  causing mortar to fall out of the joints or begin cracking. This in turn causes the brick to become loose. This problem can be solved by grinding out the old mortar and re-pointing the firebox with high temperature fireplace mortar. Failure to take care of this problem could lead to a more drastic problem which would require a rebuild of the entire firebox.

Damper Repair- Damper repairs can be as simple as removing a damper plate, cleaning it and properly reinstalling it. Many times a handle needs replaced, and quite often an entire new damper needs installed. With the new energy efficient top mount dampers replacing the old throat style dampers, damper replacement is one of the best fireplace repairs a fireplace owner can make.

Fireplace Liner installation- Many of the older fireplaces were constructed without flue liners. The biggest problem is that most of the flues in these fireplaces were constructed of single wythe brick which are also in contact with combustible materials. As the fireplace gets older and the building material gets softer, the chance of a structure fire increases. These conditions make it essential to have a properly sized chimney liner installed.
Fireplace repairs can be numerous as well as costly. It is best to have your fireplace inspected for possible problems and attain an estimate for proper repairs. Contact us and we will provide you with an estimate. To see if we provide services in your area, find your zip code in the drop down box below. If your zip code does not appear, we do not provide services in your area.
Due to the price of gas and transportation costs, we do charge a small fee for doing an estimate. If you accept our proposal, all estimate fees are deducted from the proposal. Fees for estimates can also be seen in the drop down below