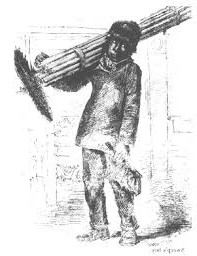 Just mention the word "Chimney Sweep" and most people immediately think of the movie "Mary Poppins". As the tune of "Chim Chim Cher-ee" echoes through your head, stop and envision Bert and his chimney sweep friends seemingly enjoying the job they were doing. Think of how dirty they got. If being covered from head to toe with soot is not your idea of fun, you may want to call a professional to do your chimney cleaning rather than tackle the project yourself. That's where we come in.
Chimney cleaning has come a long way from what is portrayed in "Mary Poppins". While the cleaning process has remained pretty much the same, the equipment and technology has taken a major step forward. Today we have special brushes for each situation and type of flue liner. High powered vacuums are used to control the dust as the the chimney is swept. Still, cleaning a chimney is a dirty job.
When you decide to clean your chimney, you'll want to make sure that it is done properly. You'll want to make sure that the person doing the cleaning is thorough and comprehensive in completing the job. Proper and efficient cleaning of a chimney is important in the prevention of fires. You don't want to put the fate of your home and the lives of your family in the hands of just anyone. Contact Us Today! After 27 years in the industry, we know what to look for and how to keep you safe.
Chimney Sweep Cost
Cleaning a chimney is not an easy task. There is a lot of work and responsibility involved. Nationwide, chimney sweeping costs can range as high as $400. At Buckeye Valley Chimney Service, our motto has been "to treat our customers the way we would want to be treated". With that in mind, you'll find that our chimney cleaning prices are fair, reasonable, and keep your budget in mind. The cost of a chimney cleaning will vary depending on how far we have to travel from our office in Toronto, Ohio.
To find out what we charge for a chimney cleaning for your area, simply find your zip code in the drop down box below, then Contact Us to schedule an appointment.