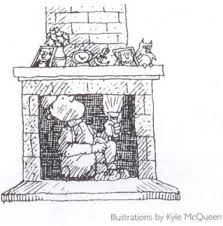 Many people under estimate the importance of a chimney inspection. Your chimney, in many cases, is the only way of removing hazardous and sometimes deadly by-products of combustion from your home. Just like visiting a Doctor regularly for the health of your body, your chimney should be inspected annually for the health and safety of your family and home. So, what does a chimney inspection involve? Each inspection is different depending on the chimney style and the appliance that it vents. Here's a brief overview of what we will look for.
Fireplace Chimney Inspection
We will do a complete visual inspection of the firebox, damper, smoke chamber, and hearth area. We'll look for flaws in construction including clearances from combustible materials. We'll check the flue to be certain that it is properly lined with an approved liner system.
Externally, we'll check for the integrity of your chimney system depending on whether it is a brick structure or a prefabricated chimney. On a brick structure, we'll check brickwork and mortar for stability, the crown wash for cracks, and the flashing for solid and proper installation. We check your chimney to be sure that it meets NFPA (National Fire Protection Agency) regulations and whether your chimney is properly capped. Throughout the entire process, we'll check your chimney for signs of animal entry, debris, soot and creosote buildup.
Wood Stove or Furnace Chimney Inspection Checklist
The inspection that involves a wood stove or gas or oil furnace is very similar to the inspection for a fireplace. While the external inspection is primarily the same, the internal inspection will involve checking the thimble area for proper installation and clearance from combustibles. We'll also check the furnace or wood stove pipes for softness or rust through as well as proper incline from the furnace to the thimble.
If the appliance being used is a wood stove, we check the stoves firebox, grate, blower, and external casing for any problem areas.
Chimney Inspection Report
Upon completion of the inspection, we'll provide you with a written report detailing any problem areas we may find. Whenever possible, we'll show you these areas, or provide pictures of the problem area. We will also provide you with an estimate for repairs that we can do to make your chimney system safe. If proper repairs are not able to be made, we will let you know that your chimney system is not usable.
How Much Does a Chimney Inspection Cost?
While most of our services are priced by estimate, we do have a set fee for Standard Cleanings, Inspections, Service Calls, and Estimates for specific areas. The cost of these services is determined not only by the work to be done, but also by the distance we must travel from our office here in Toronto, Ohio.
To see the cost, and if we provide on-site services for your area, find your zip code in the drop-down box below. If your zip code is not listed, we're sorry to say that we do not provide on-site services in your area.