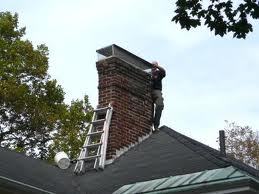 A chimney cap is one of the most important investments a homeowner can make. Whether you want to keep weather, debris, animals, or the dreaded down draft from entering your chimney, the chimney cap is the serve all tool. Chimney caps come in all sizes, shapes, styles, and makes. A quick measurement by our chimney service personnel will provide you with the best choices for your chimney.
What if I Already Have a Chimney Cap?
As we do your chimney inspection, one of the things we'll look for is to see if you have a chimney cap. If you do, what condition is it in? If we find that you don't have one, or that the one you have is old and rusting away, we will provide you with an estimate for a new cap that is just right for your chimney.
What if I Don't Have a Chimney Cap?
If you know you don't have a cap or need a new one, contact us and we will be happy to come to your home, take the measurements and install one for you. While we try to keep standard sized single flue chimney caps on our vans, special sized caps will have to be ordered and we will return at no additional charge to do the installation within our service area.
To see if we provide on-site services for your area, find your zip code in the drop-down box below. If your zip code is not listed, we're sorry to say that we do not provide on-site services in your area.